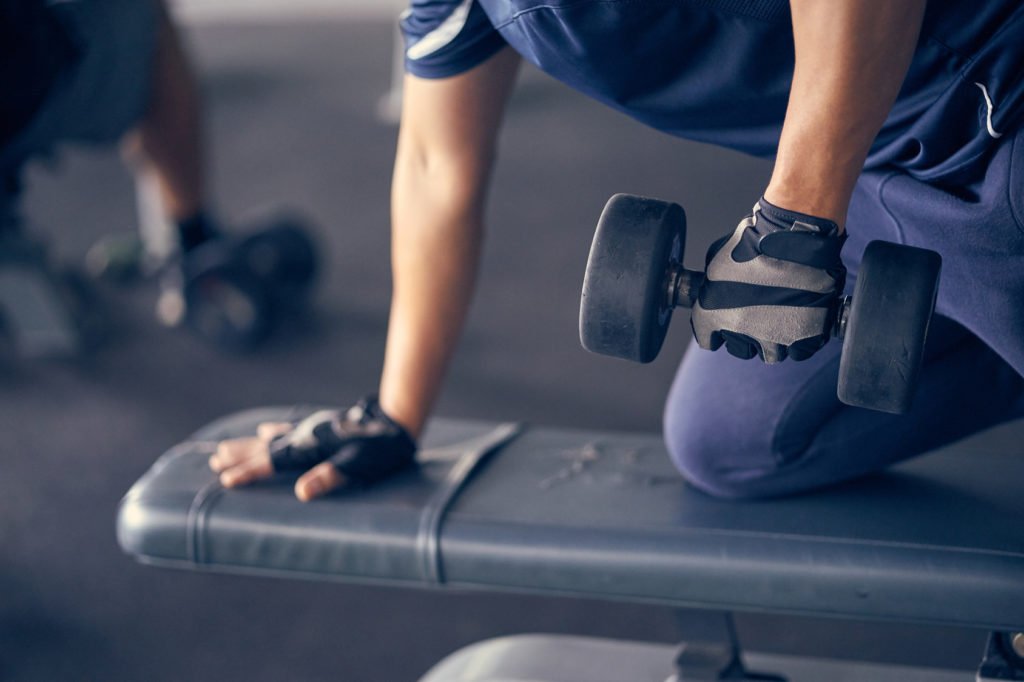 Marcy produces a wide range of fitness equipment, including recumbent exercise bikes, weight sets, rowers, and weight benches. Their take on a compact Olympic weight set is creating quite the buzz in the industry, thanks to the innovative design, the ton of extra features, and the attachments that make it possible for lifters to enjoy a total body workout.
If you're looking for an affordable Olympic weight bench that offers a wider range of lower and upper body exercise options, then the Marcy Olympic weight bench is the perfect bench for the job.
Overview and Features
This weight bench is made out of heavy-gauge steel and comes equipped with weight plate storage posts complete with Olympic sleeves, which will allow you to store a couple of weight plates.
This combination weight bench and squat rack can provide a full upper and lower body workout, so you can enjoy the same type of lifting session you normally get at the gym. The compact design makes this setup perfect for homeowners or apartment dwellers who are short on space.
The frame's main uprights are stable and strong enough to support a fully loaded bar using any of the preset positions found on the front. The rear bar supports are perfect if you want to do some squats.
There are a couple of different sizes of bar supports designed to improve workout safety. The shorter set works to support the bar located at the beginning and end of a set, while the longer supports can be best used to prevent the bar from dropping too low.
Versatile and Sturdy
When the angle of the back support needs to be changed, you can easily lift and slide the padded section along the track to place it in a position that will suit your lifting preference and height. The adjustable backrest and seat also work to improve posture and ensure you're using proper form while you lift.
Lifters will love the reverse walk-in squat station, and the adjustable preacher curl bar and pad. The included dual function leg developer comes complete with a locking mechanism and pivot point.
When it comes to an upper body workout you'll enjoy more workout options compared to other Olympic weight benches in this price range.
The higher rear set of barbell supports can be used to support standing overhead presses. This will help to add some serious size to your shoulders.
On the front of the bench, the preacher curl pad allows you to perform a wider range of exercises that are perfect for working your biceps.
On the top of the leg developer, a curling attachment has been added, so you won't have to purchase an extra set of barbells.
This model also provides both isolation and compound exercises, so you can focus on lower body muscle groups. Both back and front squats are possible thanks to the squat rack.
The leg developer allows you to work your quads by sliding your ankles behind the lower set of contoured leg rollers for leg extensions. You can also lie down flat on the bench, placing the ankles behind the higher set of rollers to work your glutes and hamstrings.
Assembly
The assembly process is simple enough, but it can also be time-consuming. While the instructions are well-written and clear, the assembly process can take a couple of hours.
Quality Construction
The weight bench setup consists of a durable steel frame combined with the upholstery boxed padding and a lasting powder coat finish. The upholstery is both sweat resistant and tear resistant.
The MD 857 is undoubtedly a very versatile piece of fitness equipment, allowing you to perform a wide variety of exercises.
A dual-function leg developer features a pivot point and locking mechanism to accommodate your legs. These two work in tandem with each other so you can perform abdominal exercises safely, as the pivot point aligns the developer with your knee joints.
Furthermore, if you want to work your quads then you will appreciate the inclusion of a reverse walk-in squat feature.
The bench itself weighs one hundred and ten pounds and features a weight capacity of six hundred pounds.
Warranty
This bench comes with a two-year warranty on all parts.
Pros
The bench features an adjustable backrest and seat that operate on a slide track, which allows for chest press and military press exercises. The detachable bicep bar and preacher curl pad allow you to enjoy a more versatile workout without having to purchase extra equipment.
The leg developer is the perfect tool to use to isolate individual muscles.
The bar catchers are very versatile, featuring multiple positions that are designed to improve workout safety.
The bench is easy to assemble.
Incredibly stable.
Priced affordably.
Cons
The bench doesn't feature vertical and decline back support positions.
The user weight capacity makes this bench a poor choice for powerlifters.
This is a fixed model and cannot be moved and stored when not in use.
Since this is a fixed weight bench it's not a good buy for people who don't have much space to work with.
We were disappointed in the length of the warranty, which is just two years.
The complicated assembly process is definitely a two-person job.
If you're looking for a more compact home weight bench setup, check out the Phoenix 99226 Power Pro Olympic Bench.
Marcy Olympic Weight Bench Conclusion and Rating
Home Workout Habit.com Product Rating: (4.5/5)
Marcy is known for their affordable, durable workout equipment and they definitely didn't disappoint with this Olympic weight bench.
Considered the best weight bench designed for total body workouts, this model by Marcy will be a great addition to your home, just as long as you have the space to accommodate it. Heavy, bulky, and built solid, this massive weight bench comes equipped with all the bells and whistles you could want in a weight bench that you can rely on for your daily total body workouts. we gave this model a rating of four and a half out of five stars.
Check Price
Summary
Reviewer
Review Date
Reviewed Item
Marcy Olympic Weight Bench
Author Rating