Finding the best weight bench isn't easy and it will have a lot to do with your current fitness level, your weight loss goals, and your overall fitness goals. Do you want a bench that can help you get toned for that cut physique you've always wanted, or do you plan on lifting heavy, so you can bulk up? Do you have other gym equipment in your home? Or are you in need of a workout bench that's versatile and equipped with attachments that can allow you to do total body workouts?
What's your budget like? If you're looking for a versatile bench that's equipped with a ton of bells and whistles then you can expect to pay more, but often, the higher price tag is totally worth it. Not only will you end up saving more money each year, that would otherwise go toward a costly gym membership, but you'll enjoy the convenience of working out right in the comfort of your own home.
With so many styles and types of weight benches on the market, it can be hard to narrow it down to the right model for you.
Fortunately, we've taken the time to review some of the leading models on the market, from Olympic weight benches and adjustable benches to utility benches with attachments.
We've chosen the five top models, each of which come loaded with features and a high max weight capacity.
How We Chose Only the Leading Weight Benches
We started off by checking out the max weight limit for each model, with a minimum max weight capacity of three hundred pounds. Lower max weight limits will be perfect if you're looking for a bench that can help you get a cut physique, while a higher weight limit is more designed for powerlifters.
Next, we moved on to attachments. Attachments provide the lifter with more exercise options, so you can enjoy more workout variety. Many of our models come equipped with squat racks, lat towers, preacher curl attachments, and leg roller attachments.
We also focused our search on versatility. If you need a bench that can work all of your muscle groups from a variety of angles, we've got you covered.
Padding quality really matters. Lower priced weight benches have padding that quickly wears out, and this can have a major impact on your comfort level during a workout. And who wants to lift on a bench that's uncomfortable?
Frame construction was also an important factor. If you want a bench that's going to last and one that can stand up to a tougher workout, then you need a bench that's made out of heavy-duty steel.
Now, we'll start you off by introducing our top-rated model by Fitness Reality. A bench that's a true pleasure to use, you'll find that this weight bench will keep you motivated to consistently work out with a model that's designed with both the beginner and advanced lifter in mind.
Comparison Chart
Product
Style
Weight Capacity
Cost
Rating
Rep Fitness Adjustable Weight Bench



Check Price

Adjustable
1,000lbs
$$$
4.5
Bowflex SelectTech 5.1 Adjustable Bench



Check Price

Adjustable
400lbs
$$
4
Marcy Olympic Weight Bench for Full-Body Workout MD-857



Check Price

Olympic
600lbs
$$$
4.5
Phoenix 99226 Power Pro Olympic Bench



Check Price

Olympic
400lbs
$$
4
Fitness Reality X-Class



Check Price

Utility
1500lbs
$$$$
5
Best-Selling Weight Bench-Fitness Reality X-Class Light Commercial Utility Weight Bench
Our Rating: (5/5)
Our top-rated model, this utility bench by Fitness Reality is the total package. Offering a variety of attachments, incline, flat, and decline positions, and an impressively high max weight capacity, this bench is a great buy for beginner and seasoned lifters. Highly adjustable, we love how changing up the position of the backrest and seat are seamless, so you won't have to struggle to change the angle of the bench when you're in the middle of a tough workout.
1st Place Best Adjustable Weight Bench-Rep Fitness AB3000 FID Adjustable Bench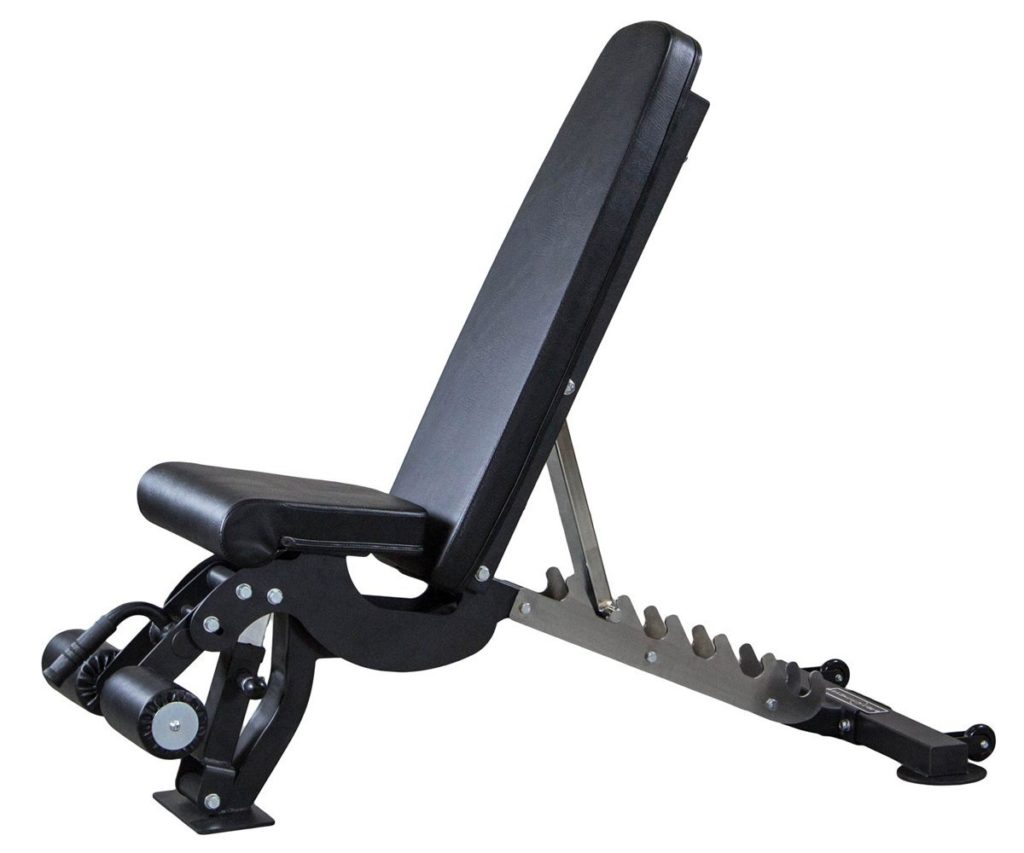 Our Rating: (4.5/5)
Rated as our top adjustable weight bench, you'll enjoy a more versatile workout thanks to the wide range of incline and decline options, the innovative ladder system that makes changing up positions fast and easy, and the solid construction that prevents the bench from moving or shaking when you're lifting heavy.
2nd Place Best Adjustable Weight Bench-Bowflex SelectTech 5.1 Adjustable Bench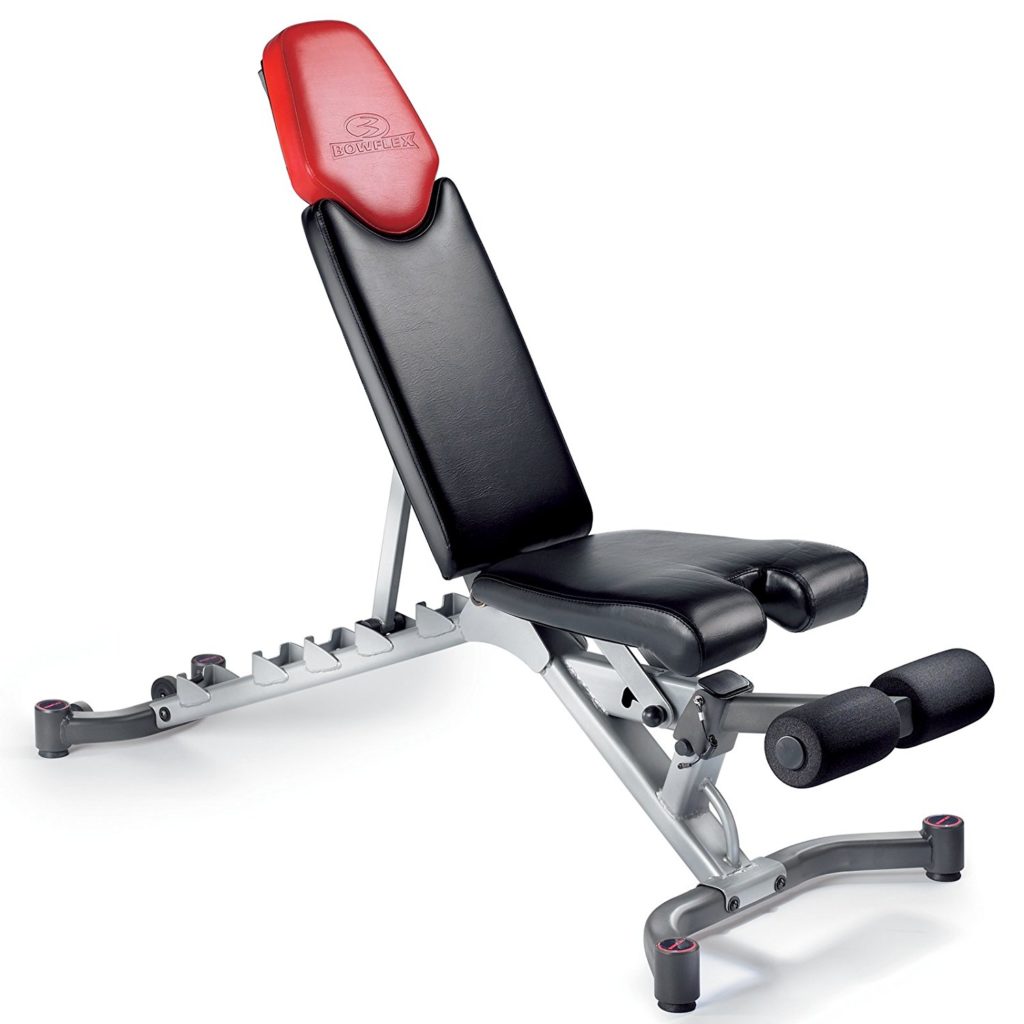 Our Rating: (4/5)
A leading name in the industry, Bowflex is known for producing top of the line fitness equipment that can take your workouts to the next level, and the SelectTech 5.1 definitely doesn't disappoint. We chose this bench for it's longer seat design, seamless locking pin system, the variety of backrest and seat positions, and the highly portable design that allows lifters to easily move and store this bench after a workout.
Best Olympic Weight Bench-Marcy Olympic Weight Bench for Full-Body Workout MD-857
Our Rating: (4.5/5)
A great bench for any lifter in search of a model that can handle tough workouts, this Marcy Olympic bench is made out of heavy-gauge steel and comes with a squat rack, so you can enjoy a more versatile workout. It also features a slick track that you can use to change up the angle of the backrest, so you can work different muscle groups for a more effective workout. Solidly built, highly adjustable, and designed for lifters of all fitness levels, you'll love how this Marcy weight bench can totally change how you lift at home.
Best Cheap Weight Bench-Phoenix 99226 Power Pro Olympic Bench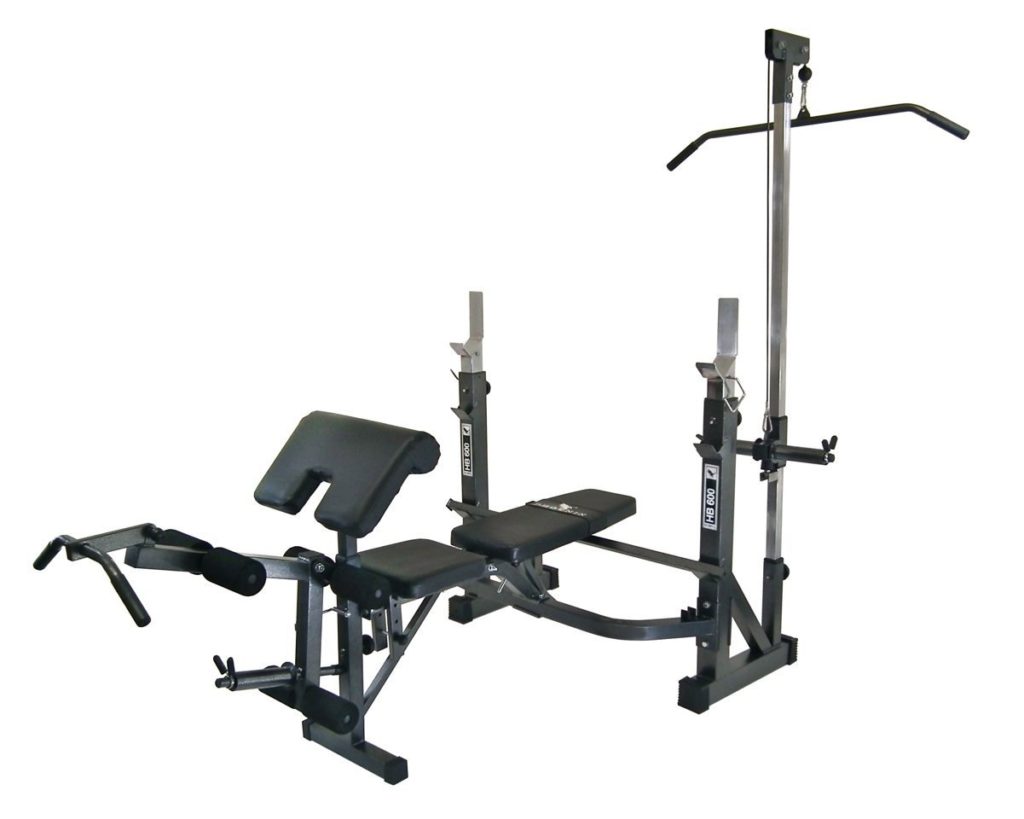 Our Rating: (4/5)
Perfect for the lifter on a budget, this Olympic weight bench by Phoenix comes with weight adapter plates and a squat rack, and a heavy-duty three-inch steel frame. Aside from the squat rack, you'll also get a lat tower and a preacher curl attachment, so you can enjoy a total body workout in the comfort of your home.
Weight Bench Buying Guide
The best weight bench will be an important piece of equipment in your home gym, whether you have a dedicated workout room or a small space set aside. When it comes to tough weight training workouts, the weight bench will play an important role. A weight bench will allow you to focus on certain muscle groups from a number of angles, and they also help to minimize the risk of injury, which can occur if you use the improper form when you're lifting.
In this buying guide, we'll explain the different types of weight benches available, what features to look for, what you can expect in terms of the range of motion, attachable accessories, and space needs, and how a weight bench can basically change the way you work out at home, for the better.
In terms of style options, you can choose from four categories:
•    Specialist benches
•    Flat benches
•    Adjustable benches
•    Olympic
Adjustable Bench
Adjustable benches often feature a simple frame design and come equipped with a couple of adjustment mechanisms such as steps or pop-pins. The ability to adjust a weight bench opens up a door to a wider range of exercises you can perform, which, in turn, means a more versatile, challenging workout. While these benches aren't built for heavy lifting, most adjustable benches will come equipped with built-in caster wheels and/or handles, so the bench can be moved from room to room or stored away when not in use.
Flat Bench
Compared to an adjustable bench, a flat bench will be much more affordable. Plus, heavy lifters also consider them more reliable and sturdy. This is because, unlike an adjustable bench, the flat bench doesn't have many moving parts. This increased stability often makes the flat bench a more suitable choice for powerlifters. The height of the flat bench is often much lower than that of an adjustable bench, making them a more reliable option for certain exercises.
The flat, one-piece design also eliminates a major issue you'll come across with an adjustable bench, and that's the gap that's found between the upper portion and lower portion of the bench due to the placement of the hinges.  Despite the fact that a flat bench features a fixed position, they're much easier to move than adjustable benches.
Olympic
An Olympic bench is a go-to option for powerlifters and heavy lifters alike. These solidly built benches have a much higher weight capacity ranging from five hundred pounds to over a thousand pounds, plus they're made from heavy-duty steel, so you know they're built to last. Many models will come equipped with a built-in rack system, which makes it much safer to lift heavy as opposed to using a flat bench and a squat stand. Racks can also make it much safer to lift heavy without a spotter. But this type of quality and higher weight capacity also comes with a larger price tag. Additionally, since these heavy weight benches are fixed, moving it is out of the question. So, if an Olympic bench is what you're looking for, keep in mind that you'll need to set aside plenty of room to accommodate it.
Specialist Bench
Specialist benches are designed for the lifters who are looking to add something extra to their lifting experience. But these benches aren't quite as versatile as adjustable benches, in fact, they're more geared toward working on specific muscle groups or movements. This can include a preacher curl bench or a core bench. A core bench is designed for working core muscles through exercises such as advanced crunches or skull crushers. The preacher curl bench allows you to do preacher curls and promotes proper form.
Features to Look For
When you're setting up a home gym, you want a weight bench that's designed to withstand heavy use and abuse, and one that's designed specifically for your type of workouts whether it's light lifting, moderate lifting, heavy lifting, or tough core workouts.
The weight bench gives you a solid place to work out while also helping you to retain the proper form. If you're a seasoned lifter, then you know that using the proper form is essential to getting the type of results you're after.
Weight capacity: The bench should not only support your weight, you must also factor in the amount of weight you lift and your lifting goals for the future. So, if you're a beginner and you weigh in at two hundred pounds and currently lift fifty to one hundred pounds, then you need a weight bench that can handle much more than just three hundred pounds, especially if you want to bulk up. If you're a light lifter and want a bench you can use for a toning workout only, then a bench with a lighter weight capacity should work out fine.
Powerlifters need a bench that can handle their current weight and their future gains. This means a sturdy, strong bench that can handle heavy loads, won't rock or wobble during a lift, and one that they won't quickly outgrow.
Think about it. If you lift a hundred pounds starting out, spend three hundred dollars on an adjustable weight bench with a three-hundred-pound weight capacity and you progress to lifting one hundred and fifty pounds or two hundred pounds within a three to six month period, then you're going to need to drop more cash on a new bench. If this is the case, you're better off spending more on an Olympic weight bench that you'll never outgrow.
Comfort: When you're lifting, you better believe that comfort matters. But a bench needs the perfect amount of padding to help the lifter. Too much padding means you'll sink into the bench, which will take away the leverage you need. Too little padding can make lifting uncomfortable and will take your focus away from lifting, which can be dangerous. It can also lead to bruising or can cause you to use poor form during a lift.
We also recommend reading weight bench reviews to find out how the padding on a particular bench will hold out over time. You'll be surprised to learn that many will flatten out after just a few months of use. Additionally, make sure the bench you buy has a warranty that will cover padding replacement.
Attachments
A weight bench that's equipped with attachments will cost more but considering the amount of versatility they can add to your upper and lower body workouts, you'll find that it's worth the extra cash.
Some benches will come with a preacher curl attachment or leg curl attachment. These attachments are designed to add more variety to your workouts, so you'll get that total gym experience. But if the attachments are difficult to remove, they can do more harm than good.
Leg curl attachments are designed to work the quads and hamstrings and can be used for leg extensions and leg curls, both of which effectively work the leg muscles, so you'll get a total body workout during your training session.
The preacher pad is typically located at the front of the bench and is perfect for forearm and bicep workouts using free weights.
A high pulley station or lat tower can be used for more than just lat pulldowns. It can also be used for one arm cable crossovers, high ab crunches, tricep pushdowns, and a wide range of other movements.
What You Need in a Weight Bench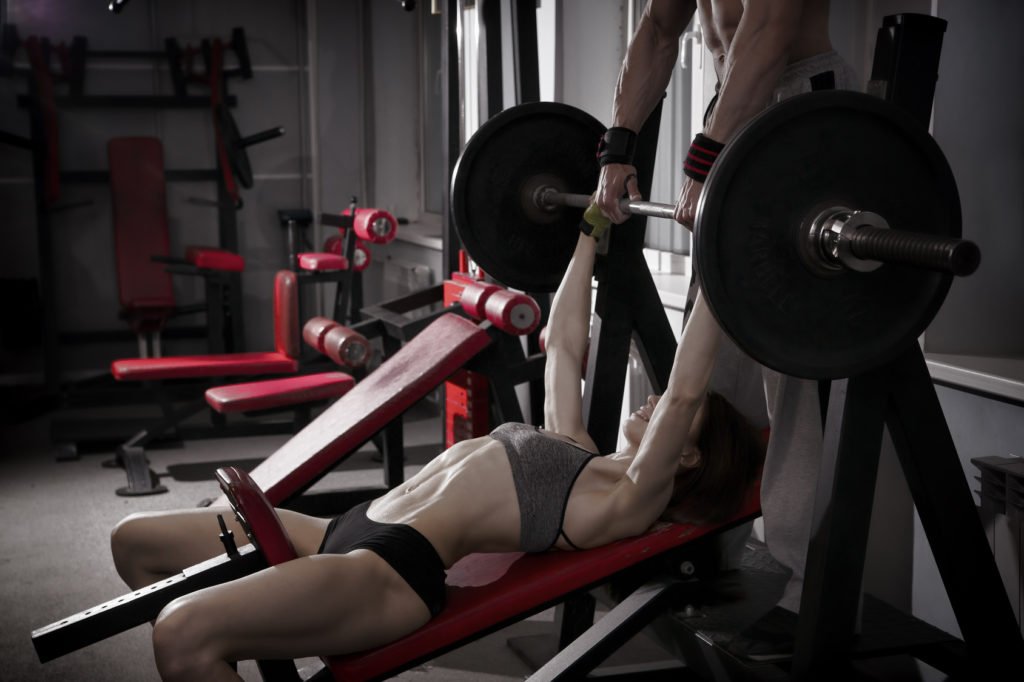 When you're in the middle of a workout, the last thing you want to deal with is a bench that's difficult to adjust. Instead, you need one that allows for fluid adjustments, so you can smoothly move from one exercise to the next.
Ideally, look for a bench that isn't adjusted with the type of pin you have to screw or unscrew to change up the position.
Benches that feature a wide range of incline angles, decline angles, upright positions and a flat position will allow you to perform more exercises, so you can continue to challenge your body. The more variety you have in your workouts, the more motivated you'll be to lift.
If you have a bench that has a leg curl attachment, make sure it's one that can be removed easily. Fixed leg attachments can get in the way of certain exercises, which can limit your workouts.
If you don't have a workout room set up in your home or your garage, then a bench that's easy to move should be at the top of your list. Basically, if you're short on space, avoid buying a fixed bench.
A small, portable bench with built-in wheels will not have the type of weight capacity that an expensive fixed model will, but it will be easy to wheel the bench out of your living room and store it when not in use.
Space Needs for Fixed, Foldable, Portable Weight Benches
If you don't have a dedicated workout room at home, then a portable weight bench, or a foldable model, will be your best bet.
Fixed weight benches, such as utility benches and Olympic benches are much heavier and don't come equipped with wheels, which means once you assemble your new bench it can't be moved. These benches are a better choice for larger homes or if you have a dedicated workout space in the basement, garage, or spare bedroom.
Pricing
If you're on a tight budget, or you're short on space, then your choice can feel pretty limited when it comes to choosing the right workout bench for your home. But you can find the best weight bench, even if you can't afford to spend hundreds of dollars on your home gym. Flat benches and adjustable benches are both great choices if you're on a budget or you don't have much space to work with. But if you can bench more than one hundred pounds, you may have a tough time finding a bench in the lower price range that can accommodate your lifting needs. Keep in mind, a higher weight capacity equals a higher price tag. The same can be said for benches that come with more attachments or fixed weight benches.
Why a Weight Bench Can Totally Change How You Work Out
Hands down, if you buy only one piece of equipment for your home gym, the weight bench is it. When many beginners think of home workouts on a weight bench they typically think of bench presses, but a weight bench can allow you to do a wide range of exercises from core work to upper and lower body work.
When you lift at the gym, you have to set aside time to commute, then you're stuck waiting in line for your chance to use a weight machine or bench. But if you're short on time or you prefer working out alone, in a quiet environment, then the weight bench is the perfect solution.
If you're not quite convinced that a weight bench can offer the type of versatility you're searching for in a piece of home fitness equipment, take a look at the list below of weight bench exercises you can try:
Skull crushers
Dumbbell rows
Dumbbell flyes
Lunges
Squats
Military presses
Bench presses
Incline presses
Lateral raises
Preacher curls
Bulgarian split squats
Dumbbell kickbacks
Dumbbell pullover
Lying tricep extension
Concentrated curl
Crunches
Leg curls
Sit-ups
Planks
Leg extensions
As you can see, a weight bench will be one of the main pieces of equipment in your home gym that you'll use the most for upper body, lower body, and core workouts.
If you'd like to learn more about how to create your own home workouts, check out our article on weight bench exercises. For more information on intense lower body workouts, take a look at our article on how to use weight bench leg rollers.
Final Thoughts
As you can see, the best weight bench can offer the type of workout variety you need in order to keep making progress. We hope our site has helped you to choose a weight bench that's right for you, your workouts, and your fitness goals. If you're looking for a change and a way to finally get the body you've always dreamed of, one of these leading weight benches can help you along your path to achieving your fitness goals.